While it is generally not recommended, you may want to exclude certain files or websites from scanning to speed up your scans or to avoid false positive detections.
Set exceptions only if you know that the files and websites you want to exclude are not infected. If you are unsure about a file, you can scan it in
Virus Total
, or add the file to
Quarantine
and submit it to the
AVG Threat Labs
. For more information about Quarantine, refer to the following article:
Refer to the sections below to manage exceptions in AVG Internet Security or AVG AntiVirus FREE:
Add an Exception
Setting global exceptions excludes individual files, folders or websites from all scans and shields at once.
To define an exception for all scans and shields:
Open the AVG user interface and go to Menu ▸ Settings.
Ensure General is selected in the left panel, then click Exceptions ▸ Add exception.
Add an exception in one of the following ways:

Type the file path, folder path, or URL into the text box, then click Add exception.
Click Browse, tick the box next to the file or folder you want to add to the exceptions list, then click OK.
You can additionally exclude a command line from all AVG scans and shields by clicking More in the bottom-right corner of the Add exception window.
Your selected file, folder or URL is added to the exceptions list.
Manage your Exceptions list
After you specify a file, folder, or website to exclude from AVG scans and shields, you can view and remove any item from the list individually:
Open the AVG user interface and go to Menu ▸ Settings.
Ensure the General tab is selected, then click Exceptions.
Ensure the boxes next to File/Folder, Website, and Command Line are ticked to see all exceptions in the list. The Exceptions list is visible below these filters.
To delete an item from your Exceptions list, hover the cursor over the relevant panel, then click the trash icon. The list updates automatically.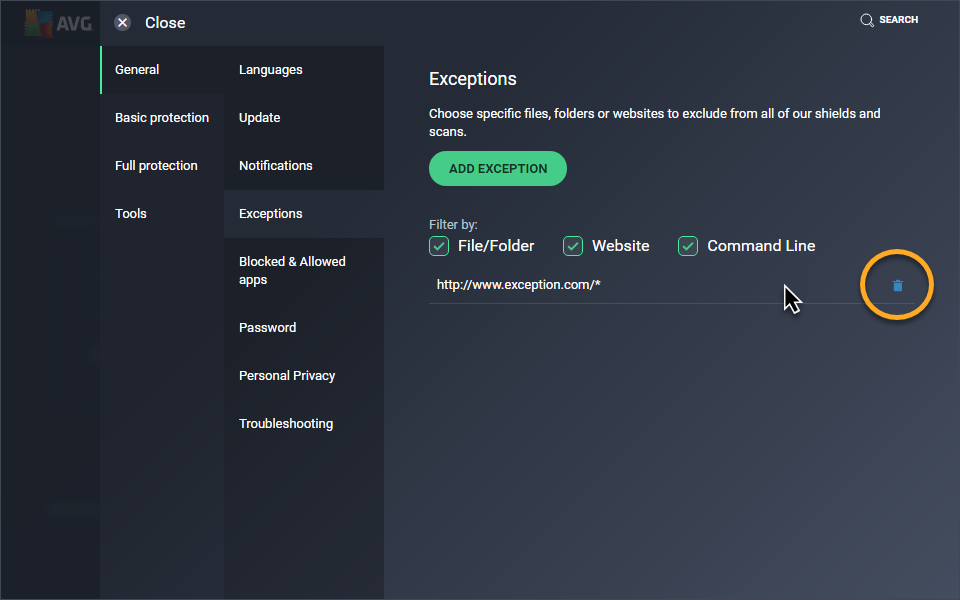 AVG Internet Security 20.x for Windows
AVG AntiVirus FREE 20.x for Windows
Microsoft Windows 10 Home / Pro / Enterprise / Education - 32 / 64-bit
Microsoft Windows 8.1 / Pro / Enterprise - 32 / 64-bit
Microsoft Windows 8 / Pro / Enterprise - 32 / 64-bit
Microsoft Windows 7 Home Basic / Home Premium / Professional / Enterprise / Ultimate - Service Pack 1 with Convenient Rollup Update, 32 / 64-bit