After purchasing an AVG product, you may need to manually activate your subscription using an activation code. This article contains instructions to locate your activation code.
You can find your activation code in the locations below:
AVG Account
Log in to your AVG Account using the link below:
Select the Subscriptions tile.
Scroll to the relevant subscription, then click Copy to clipboard.
Order confirmation email
If you purchased your subscription via the AVG Store or another AVG product on your PC or Mac, you can find the activation code in your order confirmation email:
Open your order confirmation email from no.reply@avg.com (or avg.cs@digitalriver.com for older confirmation emails).
Scroll down to the Enter your license number section of the email. Write down your activation code or copy it to your clipboard.
If you cannot find your order confirmation email, you can
request a copy of the email
via the AVG website by providing the same email address you used to make the purchase.
Activation Card
If you have an AVG box or plastic case containing an activation card, your activation code is printed on the instructions side of the card.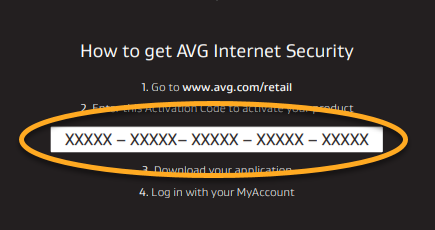 AVG Android App
You can find the activation code for your AVG subscription in an AVG Android app, provided the subscription is already active on the app.
All paid AVG consumer products
All supported operating systems