AVG Driver Updater is a PC performance tool that scans your hardware for broken and outdated drivers, and updates them to reduce and prevent problems with your PC. Refer to the sections in this article to learn how to use AVG Driver Updater.
A new version of AVG Driver Updater is now available. If your version of Driver Updater does not match the images in this article, download and install the latest version using the link below:
For detailed installation instructions, refer to the following article:
Scan and update drivers
During installation and initial setup, AVG Driver Updater scans your PC and prompts you to update any outdated drivers. To scan your PC again for outdated drivers, follow the steps below:
Double-click the AVG Driver Updater icon on your desktop to open the application.
Click Scan again to run the AVG Driver Updater scanner.
Wait while AVG Driver Updater scans your drivers.
AVG Driver Updater displays all outdated drivers. Untick any drivers you do not want to update, then click Update all or Update selected. Alternatively, click Show details next to an outdated driver to view more information, then select Update.

You need to be connected to the internet for AVG Driver Updater to update your drivers.

Wait while AVG Driver Updater updates your drivers. This may take some time.

Do not turn off your PC while your drivers are updating, unless AVG Driver Updater prompts you to restart.

Some drivers require restarting your PC to complete the update. If prompted, click

Restart

to immediately restart your PC and continue with driver updating.

Click Done when all drivers have been updated.
Your drivers are now updated.
Sometimes AVG Driver Updater is not able to successfully update a driver. If you see the message We can't update this device, click Continue to finish updating the remaining outdated drivers, or click Close if there are no remaining outdated drivers to update. Try updating the driver again later.
Manage individual drivers
AVG Driver Updater allows you to manage drivers individually if you want to skip or ignore a driver update. AVG Driver Updater also stores a backup of previous driver versions in case you need to restore a previous driver version for troubleshooting purposes.
Skip or ignore a driver:
Click See outdated to view your outdated drivers.
Click Show details next to the driver you want to skip or ignore.
Click the down arrow on the Update button.
Select your preferred action:

Skip update: AVG Driver Updater will not update to the new driver version. However, you will be prompted to update this driver the next time a new update is available.
Ignore driver: AVG Driver Updater will not update to the new driver version and will no longer check for updates for this driver.
The selected driver is moved to the Ignored and skipped list.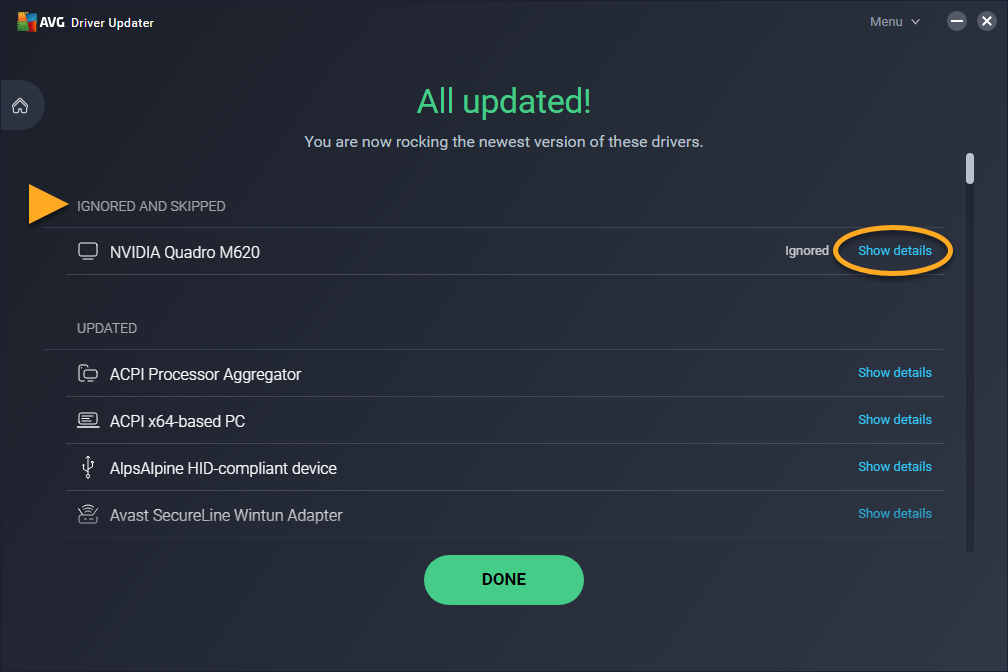 To update a skipped driver or stop ignoring a driver, click Show details next to the relevant driver, then select Stop skipping or Stop ignoring. If prompted, click Update selected to confirm that you want to update the driver.
Restore a driver:
Click See overview to view all previously updated drivers.
Click Show details next to the driver you want to restore to a previous version.
Click Driver versions.
Click Restore next to the driver version you want to restore.
Click Restore to confirm.
If prompted, click Restart to restart your PC.
The selected driver reverts back to the previous version you chose to restore.
AVG Driver Updater can only restore driver versions that were previously updated by Driver Updater. You cannot restore a driver version that was updated by your operating system or other third-party software.
For more information about restoring previous driver versions, refer to the following article:
Manage settings
Go to Menu ▸ Settings.
Select from the following options:

General

Languages: Use the drop-down menu to change the language of the application.
Notifications: Specify if you want AVG Driver Updater to notify you about outdated drivers on your PC.
Personal privacy: Change the data that you share with AVG and third parties.
Troubleshooting: Tick or untick the box next to the following options:

Save error logs: Save information about unexpected problems that might occur when running the application.
Create System Restore points: Save a snapshot of your PC before each driver update. Saving snapshots allows you to revert back if a driver update causes a problem on your PC.
Send crash reports: Automatically send data to the AVG Driver Updater team about unexpected crashes.

Developer settings: Configure advanced settings that control how AVG Driver Updater behaves when the application is closed. Disabling these settings may prevent AVG Driver Updater from working properly.
Update Driver Updater: Check that your application version is up-to-date, and manage settings that control when AVG Driver Updater automatically checks for and installs application updates.

Driver Updater

Backup folder: Click the link to access the folder where AVG Driver Updater saves previous driver versions.
Troubleshooting
In some cases, updating a driver can cause problems on your PC, such as your audio or trackpad not working properly, or issues with screen resolution and graphics quality. If this occurs, we recommend following the instructions in the article linked below to identify the cause of the issue and revert back to the previous driver version.
AVG Driver Updater 21.x for Windows
Microsoft Windows 11 Home / Pro / Enterprise / Education
Microsoft Windows 10 Home / Pro / Enterprise / Education - 32 / 64-bit
Microsoft Windows 8.1 / Pro / Enterprise - 32 / 64-bit
Microsoft Windows 8 / Pro / Enterprise - 32 / 64-bit
Microsoft Windows 7 Home Basic / Home Premium / Professional / Enterprise / Ultimate - Service Pack 1, 32 / 64-bit